July 1, 1941 marked the start of a new era in marketing.
Bulova Watches aired the first television commercial, changing the landscape for how brands can reach their consumers. What was the occasion for this revolutionary development? A National League baseball game between the Brooklyn Dodgers and the Philadelphia Phillies.
From that point on, it became clear that marketing and sports are more connected than you might think. Sport, what philosopher Bernard Suits once viewed as "the willing acceptance of unnecessary obstacles", is a multibillion-dollar opportunity that marketers have capitalized on since its early days of popularity.
What is sports marketing?
Sports marketing encompasses both the promotion of sports brands (such as leagues, events and teams) and other business products and services through the prism of sports.
From TV and radio ads to email marketing and a strong brand presence, there's a good chance you'll come across some form of sports marketing every day. But how did we get there?
We'll go over the three industry fundamentals, examples of sports marketing, and career paths you can explore in sports marketing.
The term 'sports marketing' alone casts a wide net over what may seem like an endless number of channels, brands and strategies. From taxpayer-funded downtown stadiums to the inundation of network and cable TV with 24-hour sports programming, the fluidity between sport and the rest of society and culture has been so drastic over the past 150 years that it's even difficult to separate it as its own industry.
Much of this is due to the advent of sports marketing, an industry that is still booming and is influencing some of the best marketing and business professionals to focus their attention on sports as a means of increasing their income.
3 fundamentals of sports marketing
The vastness of the sports marketing field has become too difficult to describe in 2019. Looking at a single professional sports organization, the many different forms that sports marketing takes are difficult to dissect. From leagues and teams themselves creating their own campaigns to various brands and companies capitalizing on the popularity of the sport to continue their marketing efforts, there are many mobile elements involved in sports marketing.
Here are the three fundamental elements of the domain as a whole:
1. Advertising of leagues and participating entities
The first aspect of sports marketing concerns the leagues, organizations and entities directly involved in the industry itself. Sports marketing offers a rare opportunity for businesses, such as leagues and teams, to have millions of people watching them operate on a daily basis. Imagine having your brand on display just because people watched you at work!
Leagues and brands are gaining national visibility through their network and cable TV presence and the grip of fandom. Think about all the guerrilla marketing that leagues and teams are capable of doing by selling fan items and making their logos wearable and visible to the masses.
Sociologists argue that the bonds formed in their youth are stronger than those formed later in life and more difficult to break. Sports marketers understand the importance of winning young fans and how that brand awareness can continue for life.
League and team advertising is included in events such as the World Cup and the NCAA Tournament. Events like these, often laden with sponsors (we'll cover them below), are natural ways to showcase different teams, individual players, and raise the stakes in the game to grab the attention of a bigger one. number of viewers.
The ability of leagues and teams to promote themselves through events, media coverage, and therefore following legions of fans, creates a huge financial opportunity for these entities to earn income through outlets such as TV deals. and the sale of tickets and merchandise.
2. Marketing of products
Think about the last time you watched a sporting event on TV or listened to the radio. The amount of ads, whether during commercial breaks or even during the broadcast itself, is staggering.
A Nielsen measurement shows that seven of the ten most-watched shows in America in 2018 were sports, five of which were NFL shows. These results alone reveal the huge opportunity for brands if they are willing to spend their marketing dollars on sports-related campaigns.
The intersection of product marketing and competition itself gives these product marketers more leverage. In motor racing, the cars themselves are littered with advertisements, as are the soccer jerseys worn by players on the field and on the walls of baseball diamonds. As leagues and networks place more emphasis on the home viewing experience, product marketers are more willing to shell out big bucks for marketing campaigns related to the viewing experience. Money discovered that an average 30-second Super Bowl commercial sells for over $ 5 million.
Sponsorship of events, teams and individual athletes are all well-known examples of product marketing through sport. Athlete sponsorship agreements can cause athletes to use particular products when exposed to viewers, and often come with a huge price tag for this type of unique exposure.
3. Advertising of the sport itself
The third area of ​​sports marketing is to advance the popularity of the sport itself, which is in the interest of all parties involved. Since the days when Theodore Roosevelt encouraged college-aged men to play football to prepare them for war, sport participation has been promoted by voices in the public and private sectors for a multitude of reasons.
Today, charities like RBI or First Tee are initiatives that help develop their respective sports and try to spark interest in games from an early age, sparking increased interest in the future.
Youth sports leagues and charitable initiatives are often supported by parent organizations such as professional leagues who wish to keep the sport popular regardless of age, gender and socioeconomic status.
Careers in sports marketing
Careers in sports marketing range from working directly with teams and leagues to working for individual athletes or for adjacent brands.
Sports Marketing Coordinator / Manager
A sports marketing coordinator or manager works directly for a sports marketing team, league or company. Their job is similar to that of a marketer for any other brand. Day-to-day responsibilities include planning, designing and implementing an advertising campaign for a sports-related brand.
This position is ideal for job seekers who have degrees in Marketing or Event Marketing and are experienced users of marketing or event marketing software, as well as sports industry concentrations. Since the position is one directly in the highly competitive field of sport, there is a great barrier to entry among applicants with backgrounds that contain previous experience in sports marketing or specific degrees or concentrations in the sector. Sport.
Brand manager
One position that can be in the area of ​​sports marketing, but not directly reporting to a league, team, or sports agency, is that of a brand manager for a company that markets through sport. Marketing a specific brand's products in sports may include marketing on sports venues, on television and radio, or sponsorship of events or uniforms.
One of the benefits of this brand marketing role is that one can step into a non-sporting context and work with sports teams, leagues and agencies with their expertise in brand marketing. This type of work in sports marketing could be perfect for experienced marketers looking to enter a new area of ​​marketing.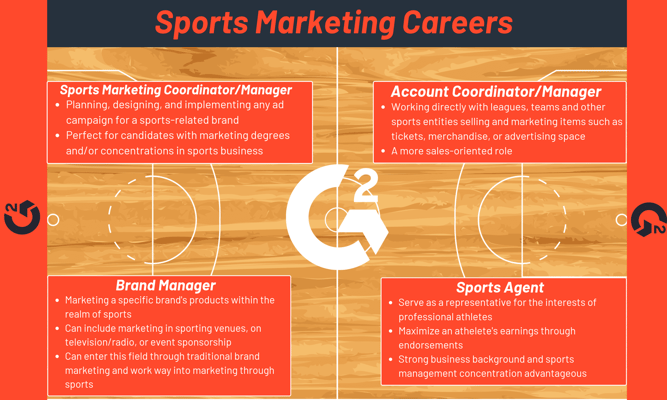 Coordinator / Account Manager
Another way to break into the sports marketing industry is a sales position. With an Account Coordinator or Manager role, you'll be on your way to working directly with leagues, teams, and other sporting entities. Selling and marketing items such as tickets, merchandise, or advertising space is a convenient way to enter the sports marketing industry from the sales side.
Sports agent
Another career in sports marketing is as a sports agent. Serving as an advocate for the interests of professional athletes is one way to leverage the interests of teams and leagues, individual athletes and brands that all overlap in the sports marketing industry. Your main goal as an agent will be to maximize an athlete's income through their contracts and endorsements and, yes, to show them the money.
While it may not be as dramatic as it is depicted in Jerry maguirean agent position is highly sought after and extremely competitive. Agents come from a wide variety of backgrounds, from finance to law to marketing, and are expert writers and negotiators.
Why sports marketing?
There are no signs of slowing down the global sports craze anytime soon, and the field of sports marketing will continue to provide plenty of opportunities for marketers to jump in and test the waters. Sports marketing offers opportunities to work on many different aspects of a thriving industry and will provide a whole new set of challenges for seasoned marketers who haven't thought about transitioning to sports beforehand. And if you're interested in the latest trends in sports-related software, check out this guide to team management software.